The LED neon lights is a new type of neon light, which has great advantages over traditional neon light.
Because the production process of the traditional neon light is complicated, and made of glass tube, inert gas and high voltage, etc. The productivity is low, and the cost is high.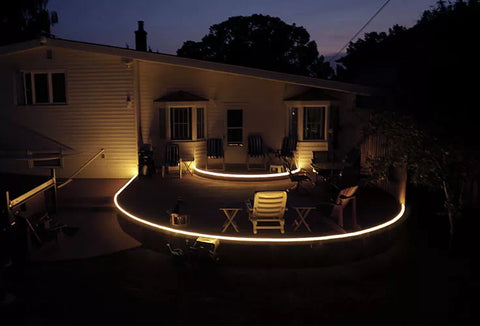 Now the LED neon lights are mainly wrapped with flexible silicone tube cover the bright LEDs, the new process technology increase the light emitting intensity and uniformity, simplify and improve production efficiency.
High brightness. The LEDs is made of ultra-high brightness LEDs in series. The dot less 120LED/m or 240LED/m that is the important guarantee for the luminous effect and high brightness.
Long lifespan. On the base of traditional LED technology, with a new structure, this light can run an ultra-long lifespan of 50,000 hours under the most of the application. Compared with glass neon lights, the advantage is unquestionable. Because there is no need to consider the glass going broken of neon lights (PVC plastic lamp body)
Energy saving. The LED neon lights can save more than 70% of energy consumption and use cost. The glass neon light is 26.25W/M, but the minimum power of LED neon light is 2.8W.